2 onions
4 garlic dill pickles
40g smoked bacon
2 dessert spoons of grainy mustard
salt and pepper
4 slices beef top round (Rinderrouladen) your butcher can slice and pound the meat for you)
300g baby onions
2 dessert spoons olive oil
2 dessert spoons tomato puree
1 tsp pepper corns
2 dessert spoons flour
500ml meat broth
Chop the onion, pickles and bacon finely. Fry the bacon in the pan with olive oil. Then add the onion and fry until glassy. Add the pickles and mustard and stir through. Season with salt and pepper and leave to cool.
Wash the beef and dry with kitchen paper towel. Season with salt and pepper and then spread over the bacon and pickle mixture onto each slice.
Roll up the meat and then tie with kitchen string or tooth picks. Peel the baby onions.
Add oil to a skillet or pan and brown the meat all over. Add the onions and fry until golden brown.
Add the tomato puree and pepper corns and heat through quickly. Sprinkle over the flour and then fry for about 3 minutes stirring all the time. Add the meat broth and bring to the boil. Turn down to a simmer, put a lid on the pan and simmer for about 1 1/2 hours. Turn the beef rouladen every 15 minutes or so.
Take the beef rouladen out of the pan. Remove the string.Taste the sauce and season if necessary. Serve the rouladen with the sauce, Spaetzle and salad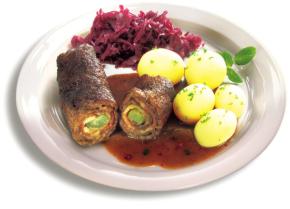 _________________
A hungry stomach seldoms scorns plain food.